Read time: 3 mins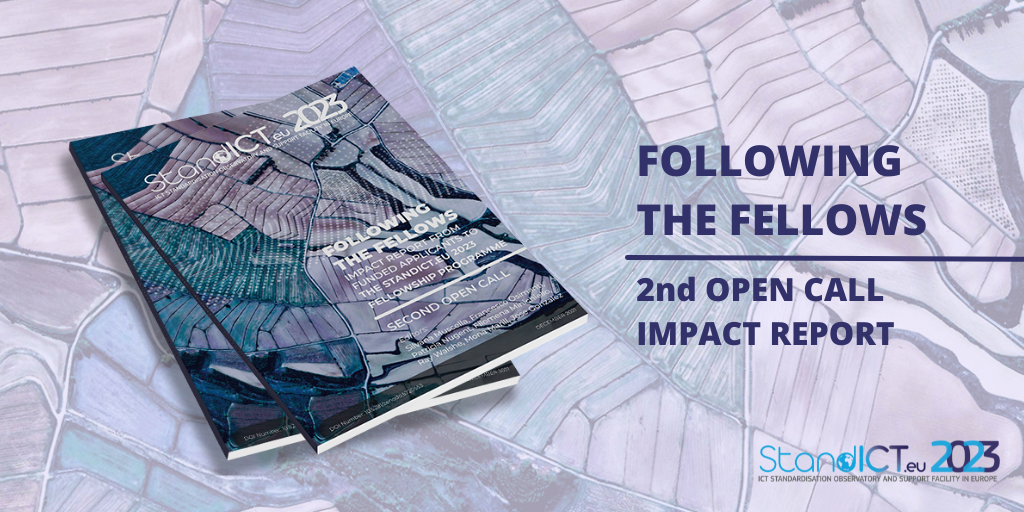 Download the 2nd Open Call Impact Report now
StandICT.eu 2023 is pleased to announce the publication of its second in its series of "Following the Fellows Impact Reports", which highlights a variety of evidence-based outcomes gained through the project's second open call. The report puts the fellows (*) themselves, (*fellows are those individuals who have successfully won an application in the StandCIT.eu 2023 open calls) - all of whom are rightly experts within their own respective fields of ICT standardisation - under the spotlight and offers them the opportunity to speak about their work and the added-value they are contributing to standards efforts as awardees from their own perspectives.
StandICT.eu 2023 aims to support and facilitate specialists across a broad spectrum of ICT standardisation territories, with the long-term objective of strengthening Europe's competence, standpoints and influence on ICT standards through a seamless digital transition and across the domain as a whole. Within a broader context, it aims to ensure that the EU's interests, policies and values, globally, through as a part of the "European Standardisation Strategy Roadmap". Not least, StandICT.eu's goal is also to contribute towards securing a greener future - both continentally and beyond.
Showcasing the most important and significant outcomes to date, the StandICT.eu 2023 fellows share not only the results garnered, but importantly they also highlight the impact of these results. In this beautifully presented report, the funded experts also create awareness around what is needed for ICT standardisation to work in practice. There is a consensus that standardisation also needs to work on the ground and solutions to this potential problem are also presented. As a further improvement to this edition, we have correlated the information provided with feedback from our fellows on the efforts that need to be made to  improve legislation and policy regulation  in their corresponding areas of expertise.
The goals of the project are critical to Europe's future, observations of and contributions to the field must be shared with relevant stakeholders with urgency. This open call is the second in a series of nine. Each of the series will feature a dedicated impact report, so as to communicate the fellows' findings in the most timely manner possible.
 

"We are continuously being reminded, through these applications, that the main drivers to engage in standards are to improve reputation, diffuse research results, help pursue the development of technologies and to make sure these technologies are standard-compliant as well as this activity being a huge source of knowledge. We are proud to be facilitating these measures through each of these impact reports."
Silvana Muscella, StandICT.eu 2023 Project Coordinator 
My cooperation with StandICT started in 2019 when I was selected as fellow to research ISO-ICT Standards related to business continuity and organizational resilience. This year I was granted two fellowships to work on regulatory technologies (RegTech) that potentially facilitate more effective (compliance) risk management in the financial sector. StandICT support has been fundamental to allow my active participation in various high level committee meetings held inside and outside Europe.
Shakira Bedoya, StandICT.eu 2023  2nd Open Call Fellow
The 6th StandICT.eu 2023 open call is opening soon in December 2021. Stay tuned to our communications channels to make sure you don't miss the opportunity to apply!
For further information, or if you work on ICT Standards and would like some financial support to help you, please reach out to info@StandICT.eu  and we'll be happy to tell you what you need to do.