Read time: 4 mins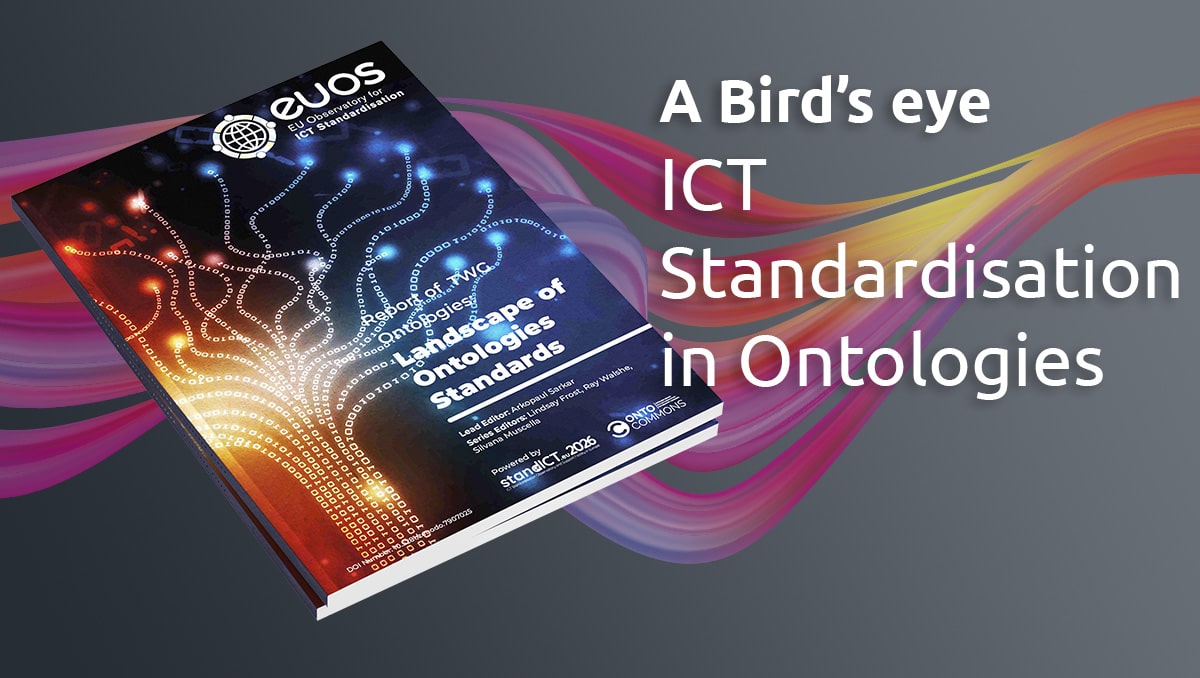 Pisa, Italy - 24 May 2023] - The StandICT.eu Technical Group for ICT under the European Observatory for ICT Standardisation (EUOS) has formed a special interest group comprising domain experts, ontologists, and researchers from academia and industry. Together, they have conducted a comprehensive survey of the Landscape of Ontologies Standards.
The result of their months-long effort is a remarkable report, now released by the StandICT.eu 2026 community. This report presents a curated collection of ontologies that are highly relevant to ICT domains and vertical sectors, considering their maturity, prominence, and suitability for representing linked data in the semantic web.
Since their emergence in Gartner's Emerging Technologies report in 2001, Ontology engineering has steadily progressed, primarily through academic efforts to support the semantic web stack. The recent inclusion of 'Ontology and Graphs' in Gartner's "hype cycle" report in 2020 signifies its growing maturity and acceptance as a practical solution for numerous ICT applications. Today, Ontology adoption extends beyond managing taxonomy and glossary, encompassing areas such as natural language processing, big data and machine learning, cyber-physical systems, FAIR data, model-based engineering, digital twin, and thread.
Multiple projects were funded by Horizon Europe to aim for the standardisation and adoption of ontology across various domains, such as the H2020 CSA project OntoCommons, for data interoperability in materials and manufacturing, Interconnect for ontology-driven interoperability in IoT and smart energy. This survey features ontologies from national and international projects, with significant contributions from existing surveys from OntoCommons and the Alliance for the Internet of Things Innovation (AIOTI). These initiatives are advancing ontology development for knowledge integration and data sharing and are poised to have a significant impact on various domains.

- Arkopaul Sarkar, Senior researcher at Ecole Nationale de Tarbes, a.k.a. ENIT & Chair of TWG-Onto.
The primary purpose of Ontology is to enable data interoperability through shared semantics and break down data silos across sectors. In support of Europe's digital future, the European Commission continues to develop policies and frameworks that promote interoperability and facilitate the collection, integration, and valorisation of data from various sources across sectors and vertical markets. The Interoperable Europe Act aims to establish secure cross-border data exchange and cooperation among public administrations, fostering the digital transformation of Europe's public sector.
The Commission aims to adopt the Interoperable Europe Act to strengthen cross-border interoperability and cooperation in the public sector across the EU. The Act shall support the creation of a network of sovereign and interconnected digital public administrations and accelerate the digital transformation of Europe's public sector.

- Laszlo Hetey, Project Adviser Health and Digital Executive Agency (HaDEA) European Commission.
By aligning efforts with the Interoperable Europe Act and leveraging the OntoCommons project, Europe can lead the way in driving economic growth, innovation, and a cohesive digital ecosystem across the EU. The landscape analysis report on ontology standards provides a comprehensive overview of recognized ontologies from international standardization bodies, commercial developments, and academia. It encompasses a wide range of domains, including information science, cloud computing, communication, IoT, multimedia, and various vertical sectors such as manufacturing, robotics, smart cities, energy, construction, bioscience, and agriculture. This report serves as a valuable tool for understanding standard ontologies, conducting gap analyses, and identifying priority areas for future development. It aims to inform policy proposals, guide standardization efforts, and emphasize the sustainability of existing ontologies for the benefit of communities. Furthermore, it highlights the significance of ontology portals such as Bioportal, Agroportal, and Industryportal, which have established FAIR ontology repositories for specific sectors, contributing to the survey. The completion of the first version of this report would not have been possible without the dedicated contributions of the members of the Technical Group for Ontology. The TWG and StandICT.eu express their gratitude to the European Commission for their support. Additionally, they invite stakeholders from industry, government, and academia to provide valuable reviews and input to expand the coverage of the survey in future versions for enhanced effectiveness.
In parallel, StandICT.eu 2026 will provide € 2,925,000 to fund European ICT experts through a series of (9) Open Calls to participate in international Standardisation Developing Organisations' working groups across the wide-range of topics identified in the EC Rolling Plan for ICT Standardisation.
The first Open Call for applicants has been launched in May 2023.
Read the full Landscape analysis report on Ontologies Standards on Zenodo.