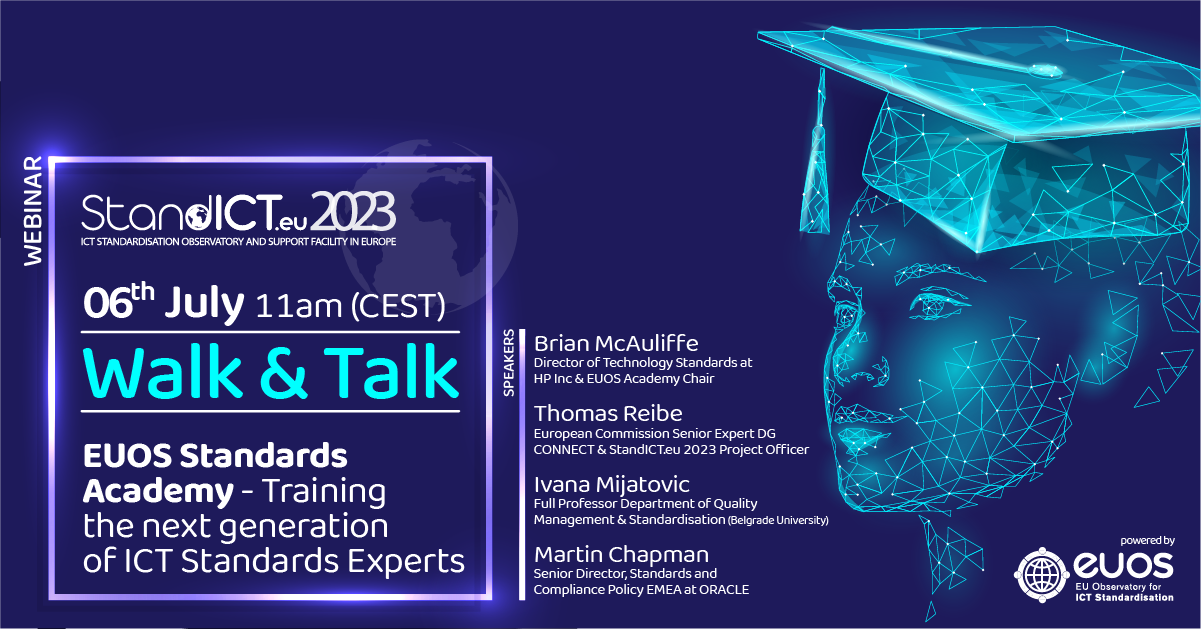 Overall Scope
The 4th StandICT.eu 2023 "Walk & Talk" webinar will introduce the activity of the EUOS Academy and the concept behind it: goals, expectations and purposes with a view to provide a significant learning experience in Standardisation to students, researchers, PhDs and business employees. 
The work of the Academy, led by the Chair Brian McAuliffe is aimed at finding answers to the following aspects:
How to use standards.
How to take part in the standards making process.
How to include standardisation from the beginning of a project or businesses.
How to reap the full benefits standardisation can offer.
Participating in standardisation to influence the content of future standards.
Who should attend
ICT Specialists and Professionals under the main Digital Single Market & Digital Europe domains
Standard Developing Organisations representatives
Members of Research Institutes working in ICT Standard Development
Representative of National Standards Associations
Agenda

11:00 - 11:15 Brian McAuliffe - Opening & the role of the Academy for Education in Standardisation
11:15 - 11:25  Thomas Reibe -  Education in Standardisation: the EC perspective
11:25 - 11:35  Ivana Mijatovic -  Education in Standardisation form an academic point of view
11:35 - 11:45  Martin Chapman - Why Standardisation Engagement and Education is important for your Industry
Recording:
Read time: 1 min
Date

Time

11:00:00

-

12:30:00