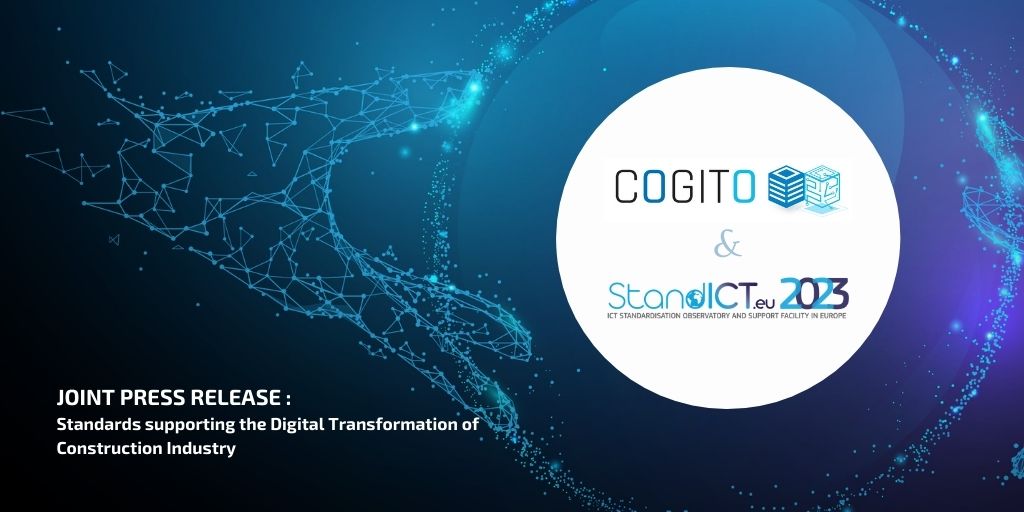 PISA – Italy, 26 May 2021 - StandICT.eu 2023 & COGITO announce their collaboration to foster the European presence in the international standardization landscape of digitalization in construction industry.  Both initiatives around digital innovation are supported by the European Commission under Horizon2020 Programme.
StandICT.eu 2023 objective is two-folded - firstly, it will fund 400+ European ICT standardisation experts in a series of 10 Open calls providing a total of 3M€ of funding. Secondly, it launches the European Observatory for ICT Standardisation (EUOS), a virtual one-stop-shop including an up-to-date standards repository as well as working groups sharing insights about ongoing standardization efforts across different initiatives. StandICT.eu 2023 focuses on horizontal and vertical ICT fields as defined in the Rolling Plan for ICT Standardisation[1], one of the focuses is the digital transformation of the building industry.
COGITO proposes to materialise the digitalisation benefits in construction through a digital Construction 4.0 toolbox that harmonises Digital Twins with the Building Information Model concept. This allows a semantic and pragmatic alignment between novel data capture techniques and value-adding end-user services. It leverages the power of real-time data for the timely detection of health & safety hazards to humans, construction quality defects and a constantly up-to-date workflow management. This way, COGITO contributes to the minimisation of construction project time/cost overruns and the alleviation of workplace accidents. One of the core project activities is data modelling and linking to enable semantically and syntactically consistent information interpretation. This involves the definition of appropriate data exchange formats, which are major current issues in ICT standardisation.
Digital Twins is transforming the building constructing towards more green, efficient, and safe – and standards are crucial enabling this transformation with interoperable systems!  Therefore, this cross-project effort gathering European experts is a great momentum to drive the landscape analysis in the field and to push the future work towards the existing gaps.  And we are delighted to reinforce the StandICT.eu experts' community with COGITO partners! – considers Mona Marill, Project Manager at AUSTRALO Marketing Lab, a partner in the StandICT.eu 2023 Team.
Activities for the standardisation of the Building Information Model have been ongoing for almost two decades and the resulting standards have already found application in construction. The next wave of relevant standardisation activities should involve the concept of Digital Twins to leverage their benefits in an interoperable manner. Standardisation can contribute to the establishment of an easy route to market through the existing value chain that already builds on BIM. Joining forces with experts in the standardisation domain is highly appreciated; to this direction, we are thrilled to announce our collaboration with StandICT.eu project. – highlight Katerina Valalaki and Giorgos Giannakis, Project Coordinators of the COGITO project. 
In the forthcoming months, the EUOS will launch a technical work group (TWG), formed by high-level experts, dedicated to Digital Twins with the objectives to closer look into the state of the ICT standards that concern the field and to produce a public report guiding all stakeholders and policymakers to direct the work in future standardization towards the existing gaps. COGITO partners are invited to bring their expertise in this work.
---
About StandICT.eu 2023
StandICT.eu 2023 runs from the 1st of September 2020 for a period of 36 months. The Consortium of Partners includes Trust-IT SRL (Coordinator), Dublin City University and Australo Interinnov Marketing Lab SL. The StandICT.eu 2023 project has received funding from the European Union's Horizon 2020 - Research and Innovation programme - under the grant agreement no. 951972.
About StandICT.eu 2023
Digitalisation for lean construction is a stepping stone to achieve the industrialisation of the construction sector, although buildings and infrastructures' construction phase has so far been overlooked by the Digital Twin community. Going beyond "static" Building Information Modelling (BIM) is required by leveraging technologies like IoT, Cloud Computing and Artificial Intelligence.
---
[1]https://ec.europa.eu/growth/single-market/european-standards/ict-standardisation_en
Read time: 3 mins