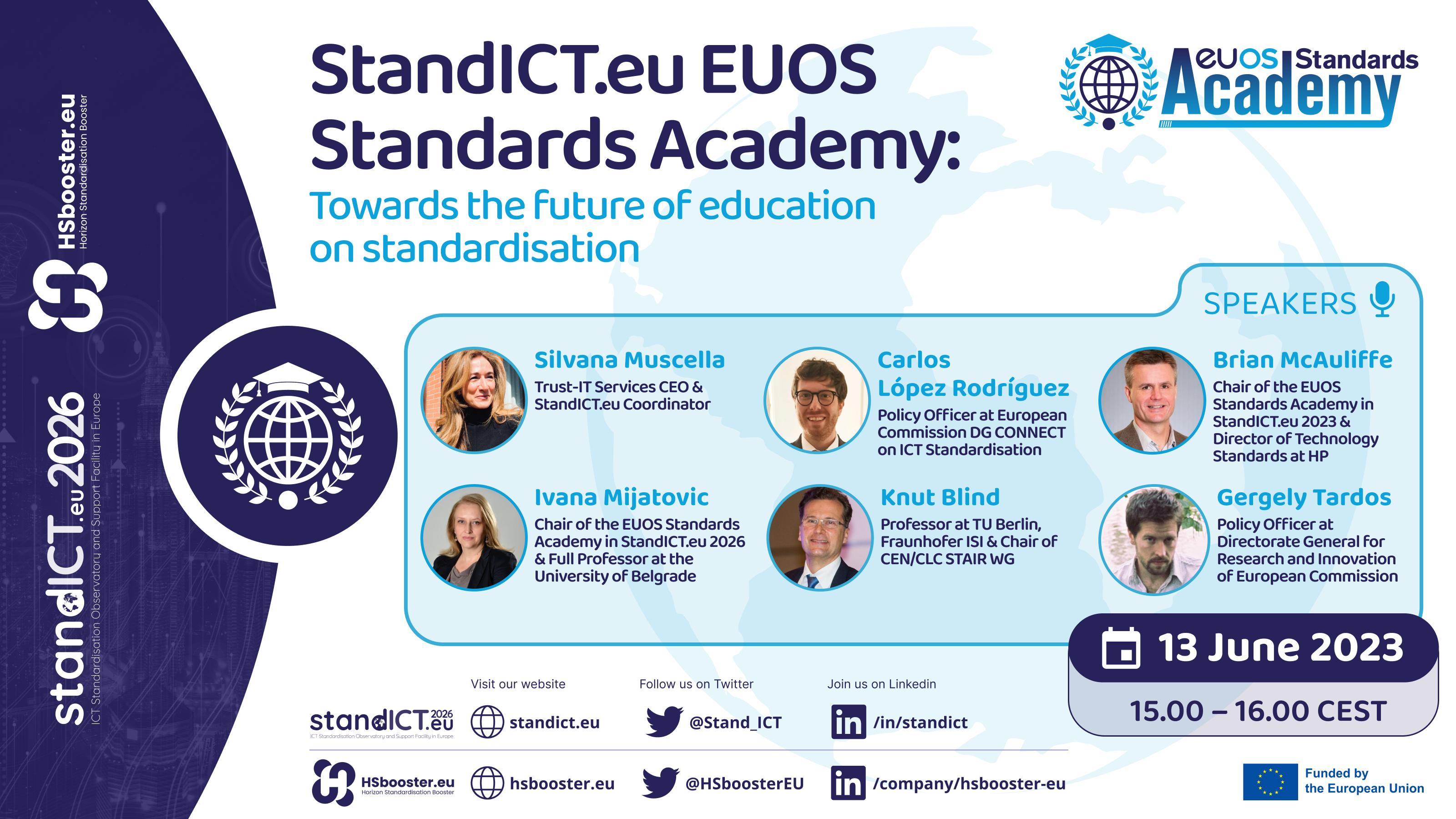 TIME SLOT
13 June 2023 | 15:00 - 16:00 CEST
SYNOPSIS
This webinar aims to address the increasing need for standardisation education and knowledge in Higher Education Institutes' curricula and its impact on economic growth, the "European Green Deal," the "New Industrial Strategy for Europe," and the Sustainable Development Goals. The EU-funded projects StandICT.eu and HSbooster.eu are working to close this gap on different levels, which are strategically relevant for the European society and EU global leadership. 
HSbooster.eu has just launched the HSbooster.eu Training Academy in response to the Code of Practice on Standardisation by providing an efficient mechanism and accessible hub for training knowledge, expertise, and skills in the field of standardisation. 
StandICT.eu is dedicated to promoting ICT standardisation education in high-level courses and curricula. To translate its objectives into action, the consortium established and managed the EUOS Standards Academy.
During this StandICT.eu Online Event, we will express our gratitude to Brian McAuliffe, the current chair and Director of Technology Standards at HP, for his exceptional work over the past three years and we will warmly welcome Ivana Mijatovic, Professor at the Faculty of Organisational Sciences, University of Belgrade, as the new chair of the EUOS Standards Academy within StandICT.eu 2026.
Don't miss this event as we explore the future of standardisation education and the collaborative efforts to ensure its recognition and implementation.
SPEAKERS
WHO SHOULD ATTEND
Large Industry & SMEs
Security practitioners
Logistics managers & suppliers
SDOs representatives
Read time: 2 mins
Date

Time

15:00:00

-

16:00:00